Click here to read more about year processing.
Click here to read more about making changes in a closed year (reopen year).
Click here to read more about settings in the type of leave when it comes to transporting balance to the new year.
How to create a new year
It is not possible to submit a request for the following year, if that year has not been created yet. The administrator can create the following year by going to 'Administration' ⇒ 'Year processing' in the menu on the left.
The following screen will appear: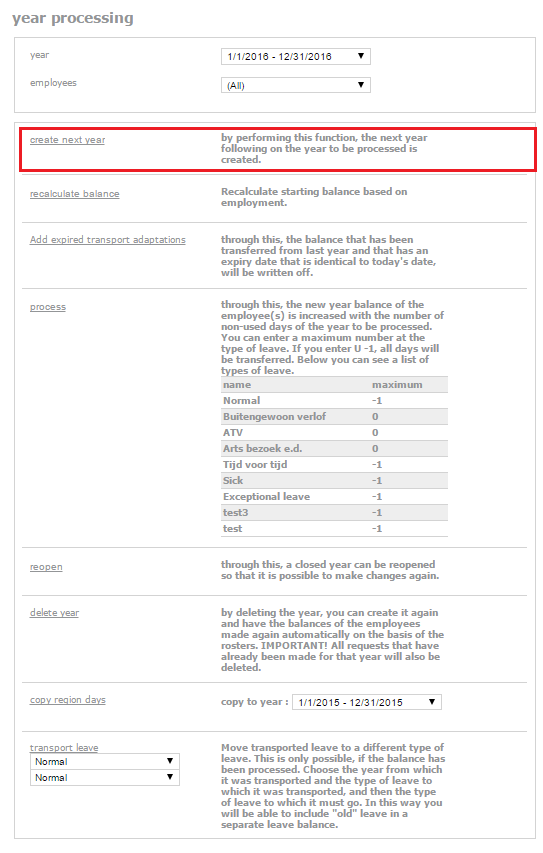 Select 'create next year', and a new year will be created immediately. The leave is entitled to all employees according to the settings in their employments and types of leave. With this new entitled leave, they can request leave for the following year.
When requests are made for the next year, balance is deducted from the new balance. Only when the previous year is processed and closed will the new balance be combined with that of the previous year.
Settings for the new year
Add special days
Then, you will have to register the
special days
for the new year. You can do this by going to
'Master data' ⇒ 'Special days' 
in the menu on the left. Here you can select the recently made year. Add the
Dutch national holidays
automatically by selecting 'add national holidays', or insert all the (
non Dutch
) holidays manually by clicking 'insert'.
Read more about special days and holidays here.
Add collective leave days
Lastly, if needed, you can submit the
collective requests
 that have already been planned for the following year. In order to do so, go to
'Leave' ⇒ 'Collective request'
in the menu on the left. Submitting the collective requests is not mandatory at this stage, but it is recommended. Mainly because it disables the possibility to request leave on one of those days.