This issue contains information about the Leavedays App.
An important message for administrators who run multiple administrations.
About the new manuals.
Its Appening Now
After a long period of testing we proudly present you. The Leavedays App in the Apple App Store
The App has been available for Android for a while now.
Some customers have been using the App for quite a while now and the reactions are positive.
Every employee has access to their balance anywhere, anytime. You can see the capacity utilization of departments and quickly decide when it is useful to request your leave.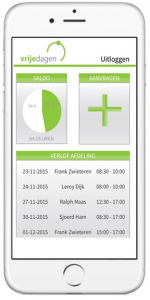 The current functionalities:

–              Your current balance at a glance
–              A Calendar list with information about who is on leave
–              Request leave
–              Bilingual (English and Dutch)
How do you get it:
Upgrade your account now to Proffesional or aquire the app module separately to access the mobile environment of Leavedays. Contact us by e-mail if you are interested in making this possible for your managers and employees as well. We can then set you up with a clear quotation in which you can apply for an upgrade to the Professional version of just the App.
This year Leavedays goes mobile and we will add many more options to the mobile environment. We will keep you posted in the upcoming newsletter! For instance, it will be possible for managers to assess leave requests and register sick reports.
Please visit our website for more information about all the available modules.
Special announcement for admins with multiple administrations
Within Leavedays it is possible to place business units in separate administrations for a more clean overview. For this type of admin, a change (for the better) has been made. Are you already used to switching between administrations after logging on?
The new manuals will be available very soon!
The new manuals are ready for you;
---

With LeavedaysNow, we would like to keep you up to date about Leavedays, so that you can take full advantage of the application.
The Leavedays team is always working to improve the application. We have noticed that our users enjoy using the application. However, with our continuous improvements, users sometimes aren't aware of new ways to make leave and time registration even more efficient.
By providing you with information regularly through our website (www.leavedays.com), and our support page (http://support.leavedays.com/), we'd like to give you the opportunity to get the most out of the Leavedays application. 
In the next editions, we will inform you about:
New updates and developments
New/updated modules
Integration of hours and time registration
The Leavedays Partner Program
We are also working on more instruction videos
We are creating a webshop, in which you can purchase extra modules and licences easily yourself.
Kind regards
Team Leavedays