The LeaveDays application will be given a new look in the near future. In the coming year we will apply a number of changes to the layout. 
On this page we will post and update all information about this frequently.
It will look something like this: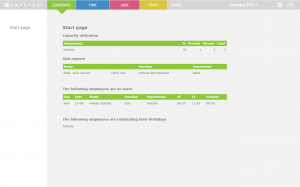 Divided into several phases, we will provide the application with this fresh, new look.
In terms of functionality, we will also adjust the application. This means that specific functions will be placed in a different place.
Divided over 5 phases, the application will slowly but surely transform to the new appearance. This implies:
First phase – Full Screen (completed in September 2021)
The application will function full screen. As a result, the page will be displayed a bit wider on your screen than usual. This essential change is necessary to prepare the application for all screen sizes.
This change is minimal and really only visible to the observant user.
Second phase – Navigation Bar (completed per October 10th 2021)
Some buttons (multi-administration choice & settings) will be given a new destination at the top right of the page with a clear dropdown menu where you can also change your own account details/profile.
Third phase – Side Menu (applied on November 1st 2021)
In this phase the style of the left side menu will be adjust towards the new house style.
Fourth phase – Branding
The banner at the top of the page will be replaced by a square logo which we will show at the bottom left of the screen.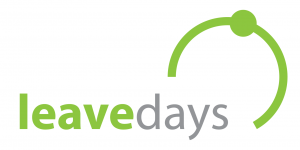 In any case, it will be extensively possible to add your own (house) style to the application and also the login environment. We will report in detail about the possibilities of this.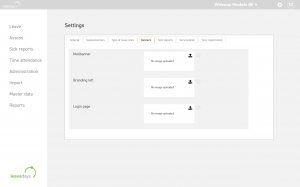 The Navigation Bar from phase 2 will be expanded with buttons from the left side menu. In other words, the following 3 menu items will now be available under the settings icon, at the top right of the application..
Administration, Import en Master data.
Fifth phase – Modul Navigation
The modules will be placed at the top where you can navigate to Leave days, Time registration, Sickness leave and possibly other modules. The side menu will show the functionalities of the module. In other words, when you choose a module at the top, the side menu will also change to offer the various options of the module.
When you use extra modules, the color composition will also change if one of these modules is chosen instead of the Free Days green;
Time registration –> Blue
Sickness leave –> Pink